The Challenge
As a brand, Birmingham St Mary's Hospice needs to communicate diverse messaging. Corporate for large companies, Caring and informative for patients, carers and the bereaved and 'fun' messaging for fundraisers and supporters.
Our challenge was to develop a creative approach that incorporated this wide variety of messaging and would work across the wide range of material required.
The Solution
A flexible brand system was created to work with each of these audiences, by utilising a range of colours of varying intensity – from a soft magenta tint through to a more robust full and vibrant purple.
The use of speech and thought bubbles added a more personal feel to the branding and provided a useful device for holding headlines, titles and quotes. A friendly typeface that appeals to all stakeholders was introduced to help ensure that the brand collateral was universally recognisable whatever the messaging.
Company Overview
Birmingham St Mary's Hospice
An independent charity providing hospice care to people in Birmingham & Sandwell.
Industry
Healthcare Charity
What we provided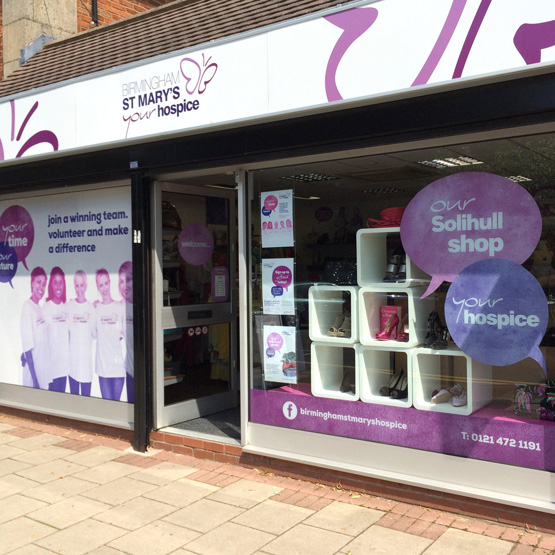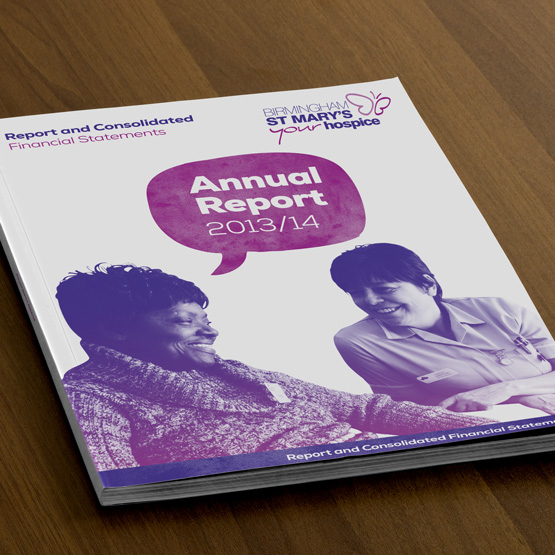 The Results
Having embraced the branding across print, digital and retail sectors, the hospice has increased awareness and subsequently income from sales, donations and fundraising.
Used across a range of promotions, retail outlets, and charity-specific literature, the brand has built up recognition well beyond its immediate audience of those people that have direct contact with the hospice.
"The success of the rebrand can be measured by the fact that due to the strength of the marketing material, the branding has now extended to the retail arm and the Hospices high street outlets."

Andy Pavey – Account Director