It's all the good things about WordPress – open source, easy to use,
familiar… without the bad – managing updates, conflicting plugins,
cluttered interface.
Custom built and managed by our in-house engineers, we focus on enterprise level WordPress development and support for your business.
Our WP Plus+ sites make the most of the technology available while developing an ongoing relationship with you and your team.
Designed

by Designers.


Built

by Developers.

There's no outsourcing here. And absolutely no 'off the shelf' templates, or template builders!

We have an in-house team of designers, developers, photographers and videographers who work seamlessly together to deliver your website and support it post launch.

Our team fully researches your audience and maps out the best user experience to deliver your objectives. Our digital designers then get to work to ensure your site looks amazing, while our developers hand code your site from scratch, custom coding functionalities rather than relying on plugins.

Finally we customise the CMS to make updating the site a simple and intuitive process. Post launch we provide secure hosting services with real support delivered by a dedicated account manager.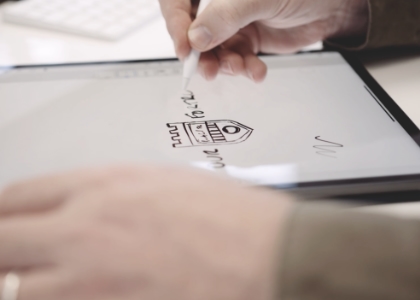 Worry-free hosting and maintenance
We've set up our infrastructure specifically to run WordPress with no input required from you. No need to worry about bandwidth, storage or any of that nonsense, we manage it all for you, not a control panel in-site. Our in-house development and deployment process ensures all code is vetted and tested before being seamlessly deployed to your production environment. You even get a staging area to utilise yourself if you want to experiment with some content before adding it to your live site.
Post deployment all WordPress CMS updates are taken care of automatically by our developers, while our in-house team are also available for any future support or development work required.
Lightning fast, reliable performance
No cheap shared hosting here. Our WP Plus+ sites have their own dedicated resources and multiple layers of finely tuned caching to ensure they are as fast as they can be. Speed is nothing though if it's not reliable, so we have multiple redundancies built into our infrastructure to ensure your site performs solidly over time.
If you'd like to dive deeper into the technicalities of our hosting infrastructure feel free to get in touch and we'd be happy to get deep!
Enterprise level security with bullet-proof back-ups
We keep your site fully secure with SSL, Website isolation, automated backups, point-in-time database snapshots, DDoS protection, web application firewall, DNSSEC, code verification and two-factor authentication.
And provide proper backups, plain and simple:
Hourly database backups (this is the most important one!)
Daily media gallery backups
Website code stored in a redundant version control system
All stored off-site
Highly scalable solution, offering future flexibility
Your website should grow with your business without needing costly work every few months just to keep up with demand.
That's why our WP Plus+ sites, along with the infrastructure, are built with future scalability in mind right from the start. Need to develop your site further? No problem!
Real customer service
An actual human at the other end of the phone if you have any concerns or need advice. Offering real understanding instead of speaking with a chatbot!
Get ready to say goodbye to the stress and headaches normally associated with maintaining your website.
At a glance:
Worry free hosting
Fast, reliable performance
Enterprise level security
Bullet-proof backups
Future proof scalability
Real customer service
Advanced spam detection
Frequently asked

questions
What if I need multiple languages?

Not a problem, just let us know when you get in touch and we'll explain how we handle this (spoiler alert, it'll be easier to manage than you think).

What happens to my domain name?

We only need to run the name servers (DNS) for your domain to take full advantage of our offering, so you can keep hold of the domain with your current registrar if you'd prefer not to transfer.

Can you manage our domain as well?

Yes we can certainly do this for you. Our domain costs are listed below. We'll migrate your existing domain free-of-charge.

.co.uk £6/year

.com £9/year

Other TLD's are available, just let us know what you need and we'll let you know the cost.

No gimmicky pricing here, just straight up low costs. The average yearly cost for a .co.uk domain is £11.99/year but most providers tie you into a low cost first year and then overcharge for every remaining year.

Do you offer hosting for WordPress sites that have already been built?

This is a tricky one. While we can offer this service we will need to assess your WordPress site first to see if it is possible to convert it to run on our network. If you get in touch with us we'd be happy to discuss this with you.

Yes! We manage all of the updates for you, there's nothing you need to do but sit back and relax. We roll out updates to your site once we've tested and verified they all work as expected.

Can I upload my own plugins?

Unfortunately not. While WP Plus may look the same as any other vanilla WordPress install, we operate things very differently. Our WordPress builds are part of a tight continuous delivery pipeline, stored in a version controlled code repository. This allows us to vet and update all plugins across our servers. This means that uploading a plugin is not possible.

Plugins are one of the top contributors to poor WordPress performance, not to mention security issues. Any plugins that we use are from a pre-approved list, ones we vouch for, alongside ones we build ourselves.

Do you offer a page builder?

We use the native WordPress block editor to give you flexible page layouts. This allows you to create new pages as and when required, without the need to involve a developer.

We don't use, nor do we recommend anyone use page builder plugins such as WP Bakery. These plugins will add significant bloat to your website and often make the editing experience much worse, not better.

Is an SSL certificate included?

Yes, we provide free SSL encryption as standard for all sites that host with us.
Let's create together
We push creative boundaries and get the work done with a no-fuss attitude.