The Challenge
Looking to revive their digital presence with their new brand identity, showcase products and increase orders and inquiries through a new sales channel, Spectrum, a leading distributor of ophthalmic surgical and diagnostic products in the UK, approached us to create a new eCommerce website.
With an extensive range of products on offer and as more of their target audience begins to shop online, this integrated eCommerce platform was crucial for Spectrum to be one step ahead of competitors – and so we started planning.
The Solution
With Spectrum's new branding style in mind, our web development team began to create the plans and mock-ups for the eCommerce site. As the website would be used by a range of customers, it had to offer clear pathways to help users find relevant information and product landing pages.
Throughout the design stage, our team put particular effort in ensuring that the identity of Spectrum was clear across all product pages, especially the homepage. It was essential that the new site helped build brand recognition to position Spectrum as industry leaders.
The key to Spectrum's brand identity was to implement a clean and clear design throughout, whilst using imagery that was product-led. To increase the chances of online sales, the site was designed to feature incentives, which include the ability to view special offers, recommended products and campaign-specific sales messages.
Finally, to optimise the website for mobile, careful consideration was given to the latest Google web build recommendations and mobile UX. In addition to an SSL encrypted data connection, to keep the eCommerce website secure and guarantee customer protection, we integrated a number of high-level security features.
Company Overview
Spectrum UK
Spectrum are leading UK ophthalmic provider.
Industry
Optometry
What we provided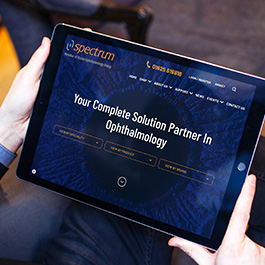 The Results
Using the refreshed brand identity, the refined and engaging custom eCommerce website clearly portrays the passion and values of Spectrum, whilst putting a direct spotlight on products.
Offering an excellent user experience and featuring more product pages and content, this online store now allows Spectrum to tap into a new market and start selling products online.
The intuitive Content Management System of the site also makes it easier to add more sections and product information internally.