The Challenge
LSL Property Services approached us to support them with their annual members conference held at The Vox in Resorts World. With over 600 members from the Pink Home Loans and First Complete networks attending, LSL decided it was the ideal time to announce their new brand identity for the networks – PRIMIS. With only a month to specify, design, produce and fit out the venue, the pressure was really on.
The Solution
With both day and evening events to consider, we started by scoping the venue and measuring up. From here we conceptualised ideas of how to make the day engaging and how best to announce and launch the new brand during the evening. Producing sponsor hanging banners, floor vinyls, window vinyls, wall panels and digital assets for both events, we also created a video showcased over 3 large screens to announce the new brand, complete with fireworks to finish. Promotional items were given out as visitors headed back to their hotel rooms to change.
Within a tight 3 hour time window we then completely transformed the venue with new creative for the evening alongside standout features including two 7 metre wide 3D PRIMIS logos and projection mapping of the new logo onto the lake below. Post event we again had a 3 hour window (between 2am and 5am) to remove everything and restore the venue ready for the next day.
Company Overview
PRIMIS Mortgage Network
PRIMIS are the UK's second largest mortgage network.
Industry
Financial Services
What we provided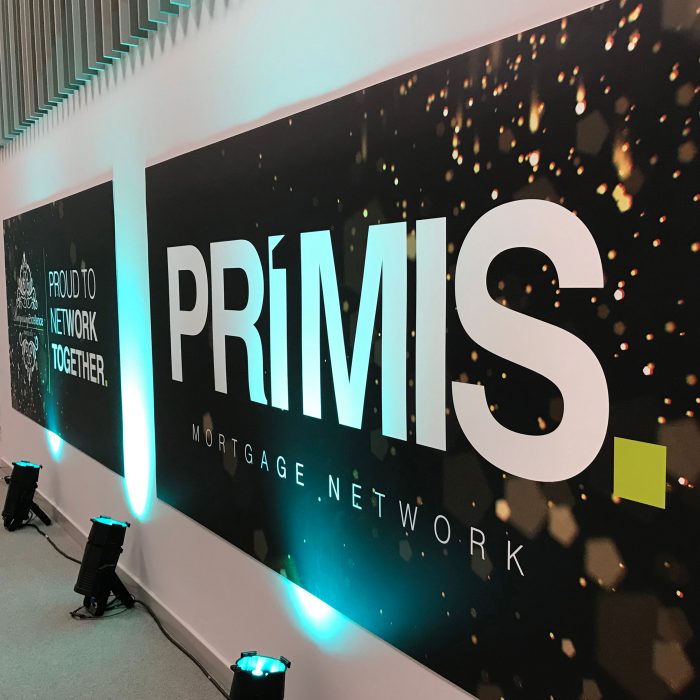 The Results
Both day and evening events were seamless. The brand launch was a huge success and created a real sense of excitement and feeling of togetherness. The evening event was full of fun surprises with a flash mob, orchestra and the M People all helping to make the event go with a bang!
Our clients love what we do!
I was blown away by the level of expertise and ease of working with Jask. Not only did they easily understand the complex brief that was given to them, they delivered it to a very tight deadline and did it with a personal approach! Love these guys!!